Roll over image to zoom in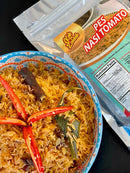 Description
Pes NASI TOMATO Kak Zaidah.


Nak senang masak di dapur? Nak masak cepat-cepat? Penat dah ni tak larat nak diri lama-lama?


Pes NASI Kak Zaidah boleh selesaikan masalah you olls di rumah 💁🏻️


✅500g
✅hidangan 6 - 10 orang
Payment & Security
Your payment information is processed securely. We do not store credit card details nor have access to your credit card information.