Roll over image to zoom in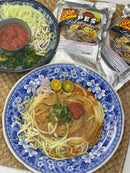 Description
PES LAKSA JOHOR
Alhamdulillah, akhirnya dapat juga Kak Zaidah sediakan LAKSA JOHOR untuk kesayangan-kesayangan Kak Zaidah 🤗
Kak Zaidah sediakan PES LAKSA JOHOR dan you all hanya perlu tambahkan air, santan daaaannnn Ikan mengikut citarasa you all!
Bahan-bahan:
1 paket PES LAKSA JOHOR Kak Zaidah
1 kg Ikan
(direbus, buang tulang dan kisar)
900ml Air
1 kotak kecil Santan
2 paket Spaghetti
HIASAN
Hirisan Timun
Hirisan Bawang Besar
Hirisan Daun Selasih
Hirisan Daun Kesum
Taugeh
Limau Kasturi
Sambal Belacan
Payment & Security
Your payment information is processed securely. We do not store credit card details nor have access to your credit card information.