Roll over image to zoom in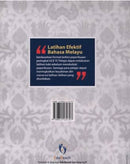 Description
Maklumat tentang buku:
EduReach Services telah melancarkan buku latihan Melayu khas bagi para pelajar yang bakal mengambil peperiksaan GCE Peringkat 'O'. Buku Latihan Efektif Bahasa Melayu menyediakan latihan komprehensif berdasarkan sukatan pelajaran yang terkini selaras dengan format Peperiksaan Peringkat 'O'. 
Latihan kami berbentuk topikal dan meliputi aspek peperiksaan yang diuji termasuk Penulisan Fungsional dan Esei, Imbuhan, Peribahasa dan Golongan Kata, Kefahaman B dan Kefahaman C.
Buku latihan ini boleh membantu para pelajar untuk mengukuhkan penguasaan Bahasa Melayu dan membuat persiapan rapi sebelum menduduki peperiksaan.
Buku ini disusun oleh Edureach Services LLP daripada sumbangan beberapa orang guru yang bertauliah dan berpengalaman.
Sebuah terbitan Edureach Services @ edureachshop.com
Information on the Book:
Edureach Services has launched a Malay assessment book for students who will be sitting for the 'O' Level Malay examination.  
The book entitled 'Buku Latihan Efektif Bahasa Melayu' contains a series of comprehensive exercises based on the latest syllabus.  
This book is in topical form including Functional & Essay Writing ,Suffixes, Idioms, Cloze Passages, Graphic Stimulus & Comprehension Exercises. This is in accordance to the examination format.  Hence it strengthen students' Malay Language proficiency  
This book is arranged by EduReach Services LLP and written by qualified and experienced teachers.
Book published by EduReach Services @ edureachshop.com
Payment & Security
Your payment information is processed securely. We do not store credit card details nor have access to your credit card information.