Roll over image to zoom in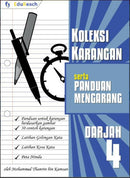 Description
Pengenalan
Kami di EduReach, dengan rasa besar hati, ingin memperkenalkan buku Karangan terbitan kami untuk anda. Ini bertujuan untuk membantu anak-anak anda dalam menulis karangan di Darjah 4.
Beberapa ciri menarik
- Mengikut format kertas 1 (karangan) terkini MOE
- Panduan lengkap untuk Karangan berdasarkan gambar
- Peta minda yang mudah untuk membantu penulisan murid sebagai panduan
- Contoh-contoh Karangan berdasarkan gambar/topik
- Latihan Golongan Kata untuk dilengkapkan 10 Makna kosa kata berdasarkan setiap contoh karangan terjemahan dalam Bahasa Inggeris
Kandungan
- Peta Minda
- Panduan Umum
- Latihan Golongan Kata
- Latihan Kosa Kata
- Karangan Berdasarkan Gambar
- 30 Contoh Soalan Karangan Bergambar
- Panduan untuk Karangan Berdasarkan Gambar
 Sebuah terbitan Edureach Services @ edureachshop.com
 Khas untuk Para Guru: Dapatkan khidmat kami untuk bengkel-bengkel bahasa.
 Introduction
We at EduReach, with great pride, would like to introduce our Essay book for you. Our main objective is to help your children in writing essays in Primary 4.
 Some interesting features
- According to the latest MOE paper 1 (essay) format
- Complete guide to Essays based on pictures
- A simple mind map to help students write as a guide
- Examples of Essays based on pictures / topics
- Vocabulary Training to complete 10 Vocabulary meanings based on each example of an English translation essay
 Content
- Mind map
- General Guide
- Word Group Training
- Vocabulary Training
- Essay Based on Pictures
- 30 Sample Picture Essay Questions
- Guide to Essays Based on Pictures
Book published by EduReach Services @ edureachshop.com
 Special for Teachers: Get our services for language workshops.
Payment & Security
Your payment information is processed securely. We do not store credit card details nor have access to your credit card information.