Roll over image to zoom in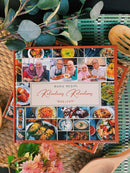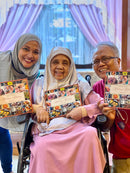 Description
With the intention to preserve our rich Malay food heritage, the idea to publish the Kelentang Kelentung Warisan Recipe Book was born - for today's generation and the rest to come.

With 50 traditional recipes (in Malay and English) by our beloved mothers and recipe contributors, a lot of time and energy was spent in hopes that it brings warmth and joy to your families through the kitchens of your home. From sharing recipes via vlogs and our Sunday morning live shows, we thank you for your sincere support up till now. The recipe book is now ready and up for grabs!

For those who are overseas, we are able to deliver internationally too.
There are 50 traditional recipes in this book, including Nasi Bancaan, Ondeh-Ondeh, Sambal Goreng Sayur, Bubur Kacang Hijau, Cha Cha Keledek, Durian Serawa Pulut, Tempoyak Pucuk Ubi, Embe-Embe, Masak Lemak Ikan Sepat & Nenas, Kuih Kaswi, Kuih Bakar Berlauk, Lompang Boyan, Roti Boyan, Udang Geragau Goreng, Jemput-jemput Pisang, Ayam Lemak Cili Padi, Keria Keledek, Kuih Bakar Berlauk, Sambal Goreng Godok, Opor Nangka, Rendang Daging, Badak Berendam and more! 50 recipes in total!
Purchase the book in Malaysia: https://bit.ly/KKshopeeMY


Buku Resepi Kelentang Kelentung Warisan.

Produced and published by ScreenBox Pte Ltd.
Payment & Security
Your payment information is processed securely. We do not store credit card details nor have access to your credit card information.