Roll over image to zoom in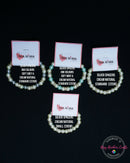 Description
Costume Jewelry High Quality Glass Pearls, 100% Handcrafted!
Introducing NIA NIMA by Rosy Rainbow Crafts.
This very beautiful matte shines glass pearls with little bit of weight, 
very elegant to wear for this Hari Raya!
Comes in beautiful colours and 2 sizes!
As these are handcrafted, limited quantities are available!
2 sizes available for you to choose:
Standard  with bling spacers: Approximately 22 cm - 23 cm
Standard plain : Approximately 21 cm - 23 cm
Small with bling spacers : Approximately 19 cm - 21 cm
Small plain : Approximately 19 cm - 20 cm
Sizes are at relaxed / non - stretch position.
All slips on bangles are made using high quality elastics strings, so no buckles!
Ships in 1-3 working days.
100% handcrafted in Singapore
Payment & Security
Your payment information is processed securely. We do not store credit card details nor have access to your credit card information.